Had a great time in June at 6 shows, 1 Coursing Ability Trial (although this time shot by my husband!), as well as some Dock Diving, and very special event at the Grayslake cluster, "The Best of the Bests"
Wave over the images to see captions if you like.
Started out the month at Fox River Valley Kennel Club held at Woodstock, IL. Nice local show, only about 45 minutes from my house. Made it possible for me to quickly zoom through the images for Saturday and head back in time to catch groups on Sunday as well!
Dogshow 2016-06-04 Woodstock--094350Teal the Whippet shows off her lovely expression with dark eyes surrounded by her super dark pigment, I was enchanted!
Dogshow 2016-06-04 Woodstock--101605Rush the Mastiff pointed out by Judge Doug Holloway as Best of Breed.
Dogshow 2016-06-05 Woodstock--135628This charming Westie struck this pose for me (we must have ESP) while waiting for his Group Ribbon.
Dogshow 2016-06-05 Woodstock--155136Jo the Havanese struts her stuff in the group!
The following weekend was another trip to Oak Creek for the Coursing Ability Trial. Jonathan wanted to play with the camera and new lens today, and since Coursing is a bit rather like spray and pray anyway, I said he could do some ... however it was EXTREMELY hot and sunny and I sat in the sportbrella most of the day while Jonathan took many many photos (which I had to edit!). These are some of our favorites...
Dogshow 2016-06-11 Oak Creek CAT--100632-5The eyes have it!
Dogshow 2016-06-11 Oak Creek CAT--111453-3Even thought he's a Toy Breed, the Cavalier is all spaniel!
Dogshow 2016-06-11 Oak Creek CAT--115720-9Penelope the shiba is taking names and setting records, I believe she is the fastest shiba currently in the US.
Dogshow 2016-06-11 Oak Creek CAT--115434-2Mayday the Shiba is after his quarry and never gives up!
Which brings us to the Grayslake Cluster -- I nicknamed it the Kewl Cluster -- a bit of a takeoff on the Coool Cluster in January, and a bit of an homage to all the kewl cali people that came to visit us! I belong to Little Fort KC of Waukegan, and we were on Thursday & Sunday, International KC of Chicago joined us this year on Friday, and there were a plethora of specialties on Saturday, along with the Great Lakes All Terrier Association and Chicagoland Hound Association Group Shows. That day was ended with the Best of the Bests, judged by a surprise judge (George Alston), it was the first time I've ever attended something quite like this and it was really fun and great to see all the specialty winners lined up in a super sized ring!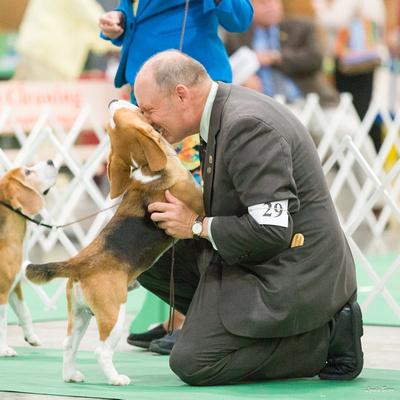 Dogshow 2016-06-16 Grayslake--093025If I don't have some PDAs of dogs and handlers I just don't feel right, here's one of Tam the Beagle and Doug Belter.
Dogshow 2016-06-16 Grayslake--141525and a sweet one during the group with Ivy the Boston and her handler Andrea Carter!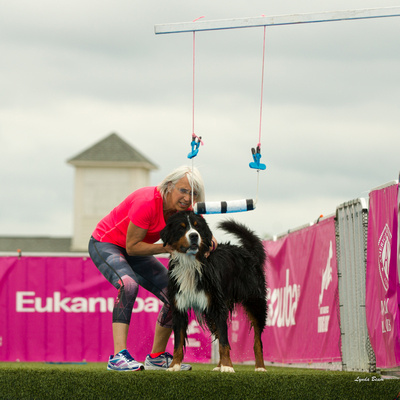 Dogshow 2016-06-16 Grayslake--162215A little intermission for some dock diving with Jody Bogdan and her dock diving Berner (is this Beryl?), he was amazing!
Dogshow 2016-06-17 Grayslake--111619oh here we are again with the PDAs, this was Best of Breed Greyhound on Friday, GCH Chaparral N Sovereign Dragon Fire with her handler, but I'm not sure of names so not putting any in!
Dogshow 2016-06-18 Grayslake--113028-2Olivia the Bullmastiff with Holley Eldred. She must have good bait because she's always stealing it ;)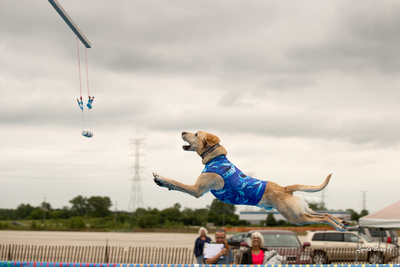 Dogshow 2016-06-16 Grayslake--165146-3I don't know the name of this dog, but he won this event starting out at 17 feet for his first jump (which he made!)
Dogshow 2016-06-18 Grayslake--131754Warning -- another sappy PDA between Bob Hutton and a Wire Fox Puppy Bitch. I think she loves him...
Dogshow 2016-06-18 Grayslake--184135George Alston presenting BIS accompanied by Virginia Murray and Scott Pfeil to ....
Dogshow 2016-06-18 Grayslake--175035Angus the Clumber Spaniel and his handler Erin Myers! Congratulations on an amazing win!
Dogshow 2016-06-19 Grayslake--140644Cole the Yorkie took BIS on Sunday
Photo Shoot 2016-06-17 Gracie Airedale--200417Funny moment during a photo shoot at La Quinta in Gurnee as some non-dog people passed by while we were shooting (we told them to go ahead, but the smiles were so cute...), Gracie the Airedale had a nice end to the weekend getting a major by going BOB over specials on Sunday.
Dogshow 2016-06-19 Grayslake--142934-2GCH Legend's Cross My Heart of Lore strutted her stuff in the group on Sunday.
That's it for June of 2016. Next month I'll be bringing you some photos from the Greater DeKalb Kennel Club show and also from the Wonderful Wisconsin Weekend (Combined Specialties & Group Shows on Friday / Waukesha KC Sat & Sun / Burlington WI KC on Mon & Tues). Contact me if you are interested if doing a private photo shoot at the show or need ringside photos!
Going into August, I plan to be at Cudahy & Racine KCs. These are very nice outdoor shows, good food, lots of parking and some photo ops near Lake Michigan on Fri/Sat. I think that is likely to be my only shows in August unless someone makes me an offer I can't refuse :)
Please take a few minutes to check out our Frequently Asked Questions if you have any questions and can't reach me right away.
Until next month, keep cool and be safe!